AMSC Meet & Greet and Top 20 Events!
Invitations will be mailed to the dog's owner on Feb 4, 2019.  If more than one owner it will be mailed to the owner of record per the AKC. Enclosed with the invitation will be the entry form and the instruction sheet (what needs to sent to whom – bio music cd, etc).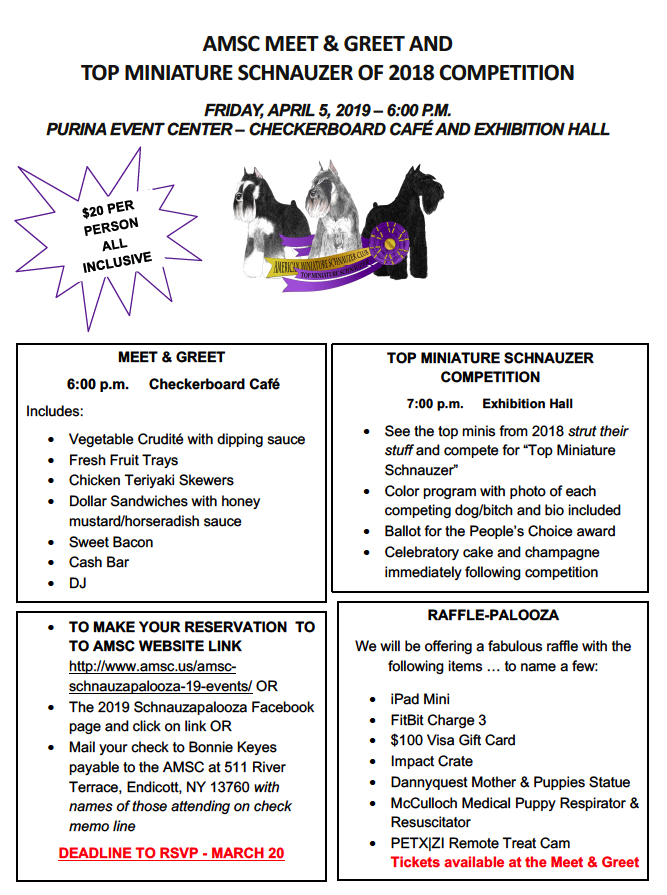 The Judges for the Top Miniature Schnauzer Competition are:
Bergit Kabel, Chris Levy, and Sonny Wang
Below is the payment link for the Meet & Greet. $20 buys a ticket for hearty food at the Meet & Greet AND a top MS Competition Program. Enter the name of the Attendees , then click BUY NOW. Then click in the quantity box and if necessary change the quantity to the correct number of people BEFORE YOU PAY.
Below is the Entry Fee Payment link of $50. Please enter your dogs registered name in the memo box before you pay. That fee also includes the Meet & Greet for the participant only. Everyone should have received their hard copy invitation by now.