Activities
The Miniature Schnauzer is a lively and energetic dog. As a good dog owner, it's your job is to raise a well behaved, happy and healthy dog. There are several things you can do to make sure your dog grows up to be the dog you want it to be.
Miniature Schnauzers are enthusiastic and need regular exercise to keep them happy, healthy and out of trouble. A walk at potty time is not enough. Luckily they are small dogs that can get a lot of exercise in a small yard or even an apartment. Games of fetch and tug several times a day in addition to regular walks or runs in a fenced-in yard can meet those needs.
All dogs need to be sociable and well mannered. This means learning to greet people and other dogs in a friendly manner without jumping up or growling, walking nicely on a leash, and coming when called. Most areas have kennel clubs or businesses where pet classes are taught. If you get your Miniature Schnauzer as a puppy, make sure you sign up for a puppy training class!
There are many choices of AKC affiliated activities for you and your dog. Here are a few of them. To find out more, visit the American Kennel Club http://www.akc.org
---
---
An Achievement to Strive for!
The AMSC Versatility Award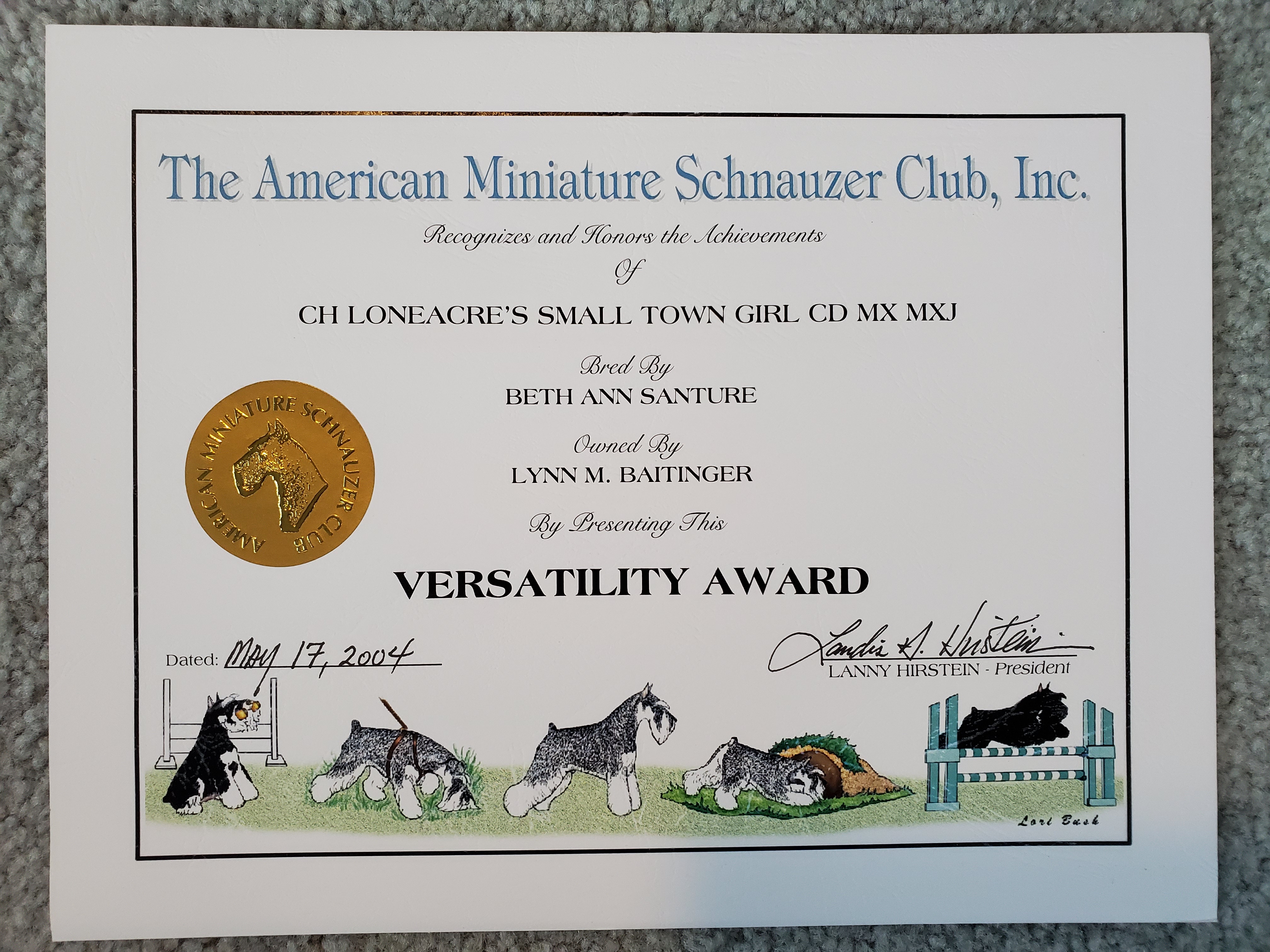 ---
The AMSC is a proud supporter of the AMSC Versatility Award for its members
Here is a checklist for the Award!
---
---
Conformation
Each dog is judged compared to the AKC Breed Standard which describes its physical structure, size, temperament, and movement. The Standard is a picture in words of the unique characteristics that make a Miniature Schnauzer.
Obedience / Rally
This sport showcases your dog's ability to work with you as a team. This includes heeling, recalls, retrieves and jumping. Obedience is also a mental activity for the dog and the owner. Miniature Schnauzers like to learn and work with their owners.
Agility
This is a high energy sport where the dog runs a course which can include jumps, tunnels, see-saws, and A-Frames. This sport helps dogs develop confidence and to take direction from their "handler". Miniature Schnauzers are naturals at this active sport.
Lure-Coursing
This sport was created for hounds, but one that our Miniature Schnauzers enjoy, simply because they love to chase prey!
Earthdog
This sport was designed for Dachshunds and small terriers who go "under the earth" to find a caged rat. There is nothing like the "scream" of excitement of a Miniature Schnauzer who has found it!
There are several other activities also perfect for Miniature Schnauzers
Pet Therapy
Miniature Schnauzers are normally people friendly dogs. Pet therapy is great for dogs who like people, love attention and are calm in new situations, and they can become certified to visit hospitals and nursing homes.
Flyball
Flyball is a fast paced ball chasing/retrieving relay sport that is open to all dogs. http://www.flyball.org/
Barn Hunt
Barn Hunt is a sport that is right up our Miniature Schnauzer's alley! The dogs "seek out" vermin (caged rats) in a controlled setting. Visit http://www.barnhunt.com/ for more details..
No matter what you choose, your Miniature Schnauzer normally is "up" for anything as long as you are there.
---
---
---